I grew up surrounded with the glitz and glamour of competitive Ballroom dance. My grandparents Clarence and Nancy Clarke were champion dancers who went on to run a successful dance school in Rhyl, North Wales. Nancy became a judge (including on the BBC show Come Dancing which was the inspiration for Dancing with the Stars), lecturer, examiner and President of the International Dance Teacher Association '78,'79,'84,'85,'90,'94,'98.
From my Grandfather I learned that basic figures danced well never go out of style. My Grandmother inspired a love for choreography and formation dance. She also taught me to never stop learning and trying new experiences and to always have a sense of humor.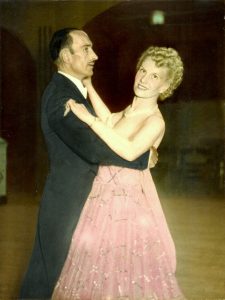 My mother Patricia Hayton was also a successful competitive dancer and lecturer. Her dance school in Cheshire was called Clarry's after my Grandfather. As a child I took International Dance Teacher Association examinations in International Ballroom and Latin, Classical Sequence, Freestyle and Dance Exercise. The exams are a great way to set goals, record progress and earn graduated awards which carry worldwide recognition. I also danced at events, competitions and professional lectures. I became a Student Dance Teacher for Clarry's and discovered a passion for teaching. This inspired me to study Early Childhood Education at university and became a teacher and Early Childhood Education Trainer specializing in developmentally appropriate curricula. I continued my formal dance education and I am an accredited dance teacher with the International Dance Teacher's Association specializing in professional dance instruction for children and adults.
I inherited my mother and grandparent's love for dance, their passion for teaching and their belief that absolutely EVERYONE can learn to dance. Whether you are a complete beginner or an experienced dancer, I can help you reach your full potential. I will prepare you for any dancing occasion whether it's social, examinations, wedding, health or just for fun!
Tracy Anne Wigley
Contact me through my Facebook page or leave me a message by registering on this site.